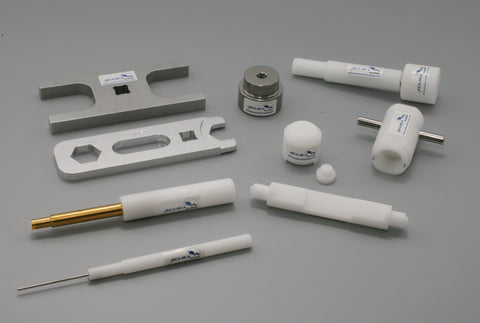 Starter Speciality Tools Kit for Aqualung Regulators
SKU:
Weight: 604 g
This kit contains the essential speciality tools to perform service works on basic Aqualung first and second stage entry level regulators (CALYPSO) and BCD's fitted with the Powerline inflator.
For detailed description of the individual items refer to the individual product pages. This kit contains:
SCT-1102 Starter speciality tools kit for Aqualung
QTY
Part #
Item
1
SCT-0616
Valve Core Tool for Powerline Inflator
1
SCT-0617
Double Wrench 32/34 mm
1
SCT-0707
Setting Tool for Aqualung Second Stages
1
SCT-0727
ACD Tool Set for Aqualung First Stages
1
SCT-0735
Seat Extractor Tool for Aqualung First Stages
1
SCT-0738
Filter Tool Set for Apeks/Aqualung Yoke First Stages
1
SCT-0761
Yoke Nut Socket 26 mm
1
SCT-0795
Bezel Tool for Aqualung Powerline Inflators
1
SCT-1725
Thin Spanner Wrench 11/16"
1
SCT-1752
Valve body Tool for Scubapro and Aqualung Second Stages


Prior to purchasing any tool kit, we suggest you read our blog post "how to gear up for servicing regulators".  
---
We Also Recommend