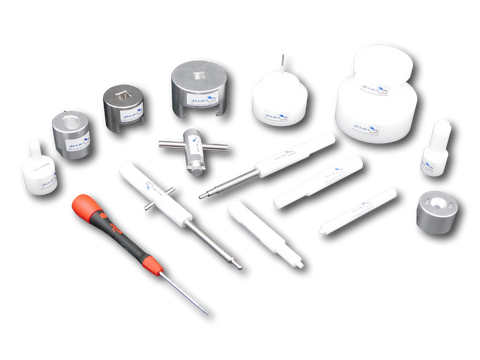 Speciality Tools Kit for Poseidon Regulators
SKU:
Weight: 1150 g
This kit contains the essential speciality tools to perform service works on Poseidon Cyklon, Jetstream and Xstream first and second stages. 
For detailed description of the individual items refer to the individual product pages. This kit contains:
SCT-1116 Speciality Tools Kit for Poseidon Regulators
QTY
Part #
Item
1
SCT-0316
Hex Screwdriver 1.5 x 50 mm
1
SCT-0713
Poseidon Second Stage Special Tool Kit
1
SCT-0714
Poseidon Xstream First Stage Socket
1
SCT-0722
Valve Seat Tool for Poseidon Cyklon
1
SCT-0723
Tool Set for Poseidon Jetstream First Stage
1
SCT-0724
Valve Seat Remover and Seat Drift Tool Set for Poseidon Cyklon 5000
1
SCT-0736
17 mm Socket for Poseidon Xstream 6mm Hex Drive
1
SCT-0737
27 mm Socket for Poseidon First Stages 3/8" Drive
1
SCT-1718
Drift Tool For Poseidon Cyklon Second Stages
1
SCT-1792
Hand Press for Poseidon Cyklon Second Stage
1
SCT-2708
Power Inflator Tool for Poseidon and Mares XR Inflator
1
SCT-2722
Wrench for Poseidon Second Stage Hose Adaptor

Prior to purchasing any tool kit, we suggest you read our blog post "how to gear up for servicing regulators".  
For older models of the Cyklon (Cyklon 300) other specialty tools are required.
---
We Also Recommend